The specialty of Russian foods for Dinner Menu lies on its hearty foods with simple ingredients. Russians show their magical touch on the hearty dishes with limited ingredients.
A variety of dishes brings Russian cuisine to a distinctive extent. Russians show how various yummy dishes can be prepared with simple ingredients like cabbage, potatoes, and bread.
The Russian dinner menu, as well as foods, is delicious and healthy at the same time. Depending on naturally grown ingredients for their food, they assure their daily nutrition.
Dinner time is very important for the Russians. They tend to have their dinner at home. It is the only time for a family gathering. They usually expect to be at home before dinner time. As it is the only time to have their last meal together naturally, they pay their attention to dinner foods.
Typical Russian foods for Dinner Menu
As dinner plays a crucial role in the life of the Russians, naturally, the dinner menu is heavy. The dinner menu is set with the foods prepared with local ingredients. Bread, Stews, cabbage, potatoes, and meat are available in the traditional Russian dinner menu.[1] Various luscious dishes are made with these ingredients.
Foods in Traditional Dinner Menu in Russia
Delicious and mouth-watering foods enrich the dinner menu in Russia.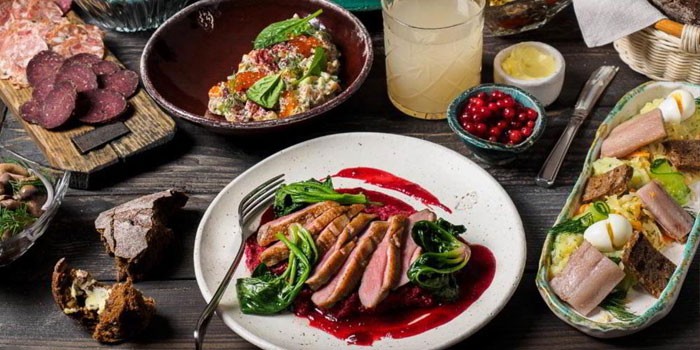 You can find various tastes and flavors with your familiar ingredients. Here is the list.
Bread
Bread is almost common in the dinner menu. Rye bread is very popular in Russia. Dinner becomes incomplete to almost Russian people if the bread is absent on their dinner table.
Salad
You can find one or more salad on the Russian dinner menu. Using of meats, potatoes, mayonnaise make the salads heavy. Flavors of salad come from beets, onions, pickles.[2]
Pickled Vegetables
Russians had to preserve the vegetables for winter as the climate was adverse for production. They followed the vegetable pickling technique. So, pickled vegetables are a significant part of the Russian dinner menu since many decades.
Meat Course
Meat course is served after salad. Beef, pork, or chicken are appreciated at the dinner table. Various delicious dishes, including meat stew, fulfill the course.
Side Dish
The side dish is available in a typical Russian dinner menu. It is usually served with a meat course. Dishes prepared with potatoes are popular side dish. Poridge and pasta are also very common as side dishes.
Soup
Soup also plays an essential part in the Russian dinner menu. Sometimes it takes the place of the meat course. Meat-based soup is very common in Russian dinner. As the soup is heavy, it can be considered as the main dish. Podjarka- pre-fried chopped onions, carrot, and garlic in vegetable oil take the soup to a different extent.[3]
Drink and Dessert
Tea is very popular as a dessert on the dinner menu. Vodka or wine is usually served with a meal. Chocolate, cakes, or pastries are also available in the dinner menu.
These foods are available at Russian dinner time. You cannot think of having dinner in Russia without these foods on their dinner menu. Their dinner menu is not so long. But the secrecy of the uniqueness lies on the creative recipes with yummy taste and flavor.
Dinner Foods in Russia
Russian foods, as well as dinner foods, are really amazing and heartwarmingg. They know the art to make comforting foods with limited ingredients. These traditional foods can surprise you with their unique taste. Here are some of these examples.
Borscht
The traditional soup is basically originated from Ukraine. The main ingredient of the soup is red beetroot. Potatoes, carrots, tomatoes, and meat are added. You can try ready-made borscht to have the taste of the traditional soup.
The soup is served with sour cream and dill. It is popular both season winter and summer as it can be served as hot or cold.
Solyanka Soup
The spicy and sour soup is prepared with pickled cucumbers, olive, sausage, lemon, and cabbage. Sometimes chicken is also used.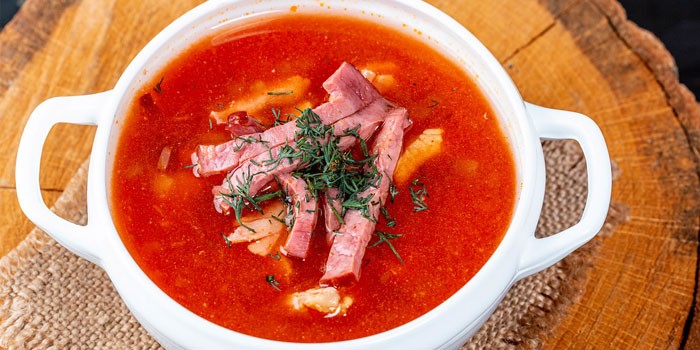 Okroshka Soup
The main ingredient of the soup is kvass- a beverage made from fermented bread. Boiled meat, radish, cucumbers, scallions, boiled potatoes, and eggs are other ingredients. Sour cream and dill are served with the soup.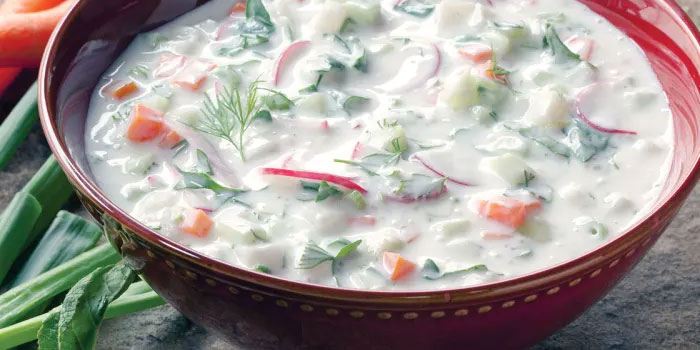 You can have the taste of the soup, excluding meat. It is also popular in Russia.
Kholodets
The time-consuming dish is popular in Russia as a starter dish. Fresh pork or beef is cooked for seven hours.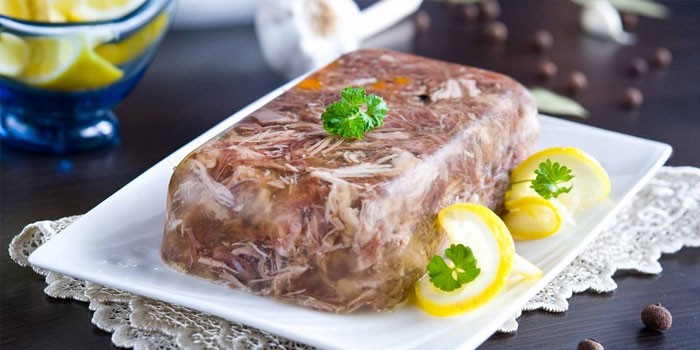 The broth in which the meat is boiled and poured over the meat pieces. Then it is kept in the refrigerator to chill.
Golubtsy
Cabbage leaves are used for this dish. Cabbage leaves are filled with meatballs. You can use the filling with rice and mushrooms.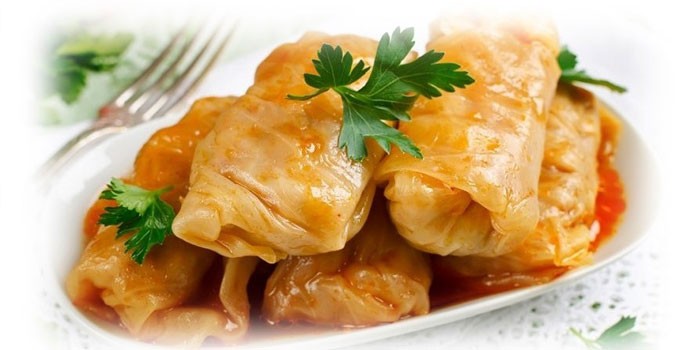 Tomato sauce is served with the recipe.
Olivier Salad
The ingredients of the popular salad are boiled potatoes, carrots, eggs, peas, pickles, and boiled chicken or beef.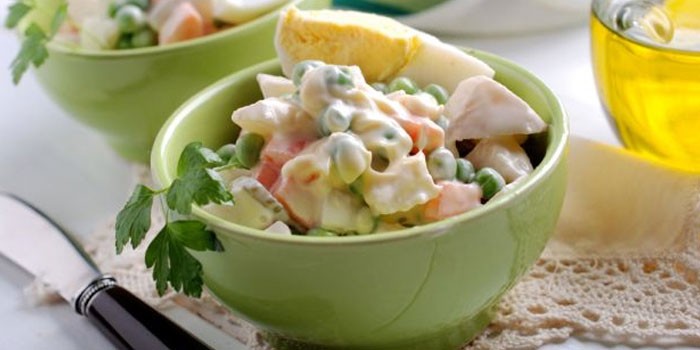 The salad is named after the Belgian Chef Luican Olivier.
Pelmeni
The dish is usually served on special occasions. The popular dish is a time-consuming dish. You need several hours to cook the dish. Cooked dough is filled with lamb or pork or beef. You can add all three meats.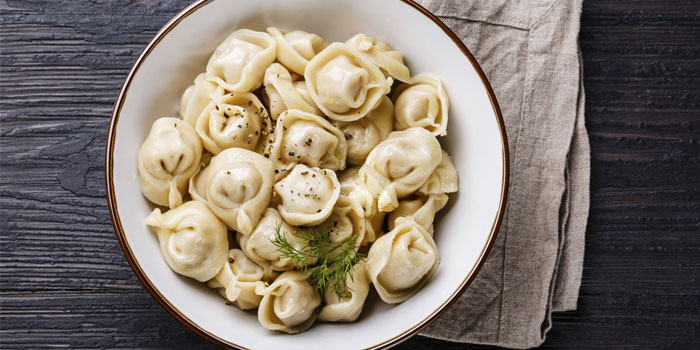 The Russian dumpling is served with sour cream and mayonnaise.
Bilini
The Russian pancake is made with yeasted dough. Bilini can be filled with anything like fruit, jam, honey, jelly or roll chicken, meat salad.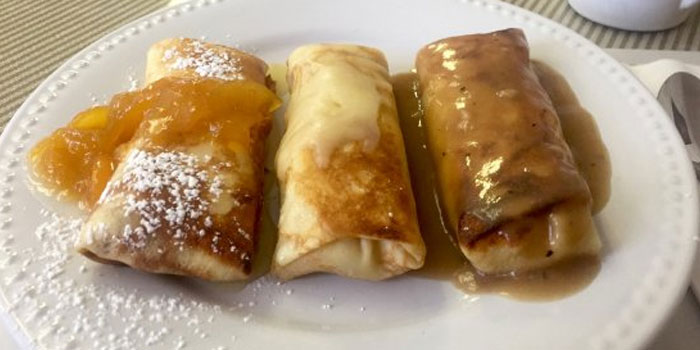 You can have Bilini as a dessert when it is filled with fruit, jam, or honey. You can have it for a nourishing dinner filling with meat salad or fish.[4]
Beef Strogannoff
Finely sliced beef fillet is the main ingredient of the dish. Onions and mushrooms are other ingredients.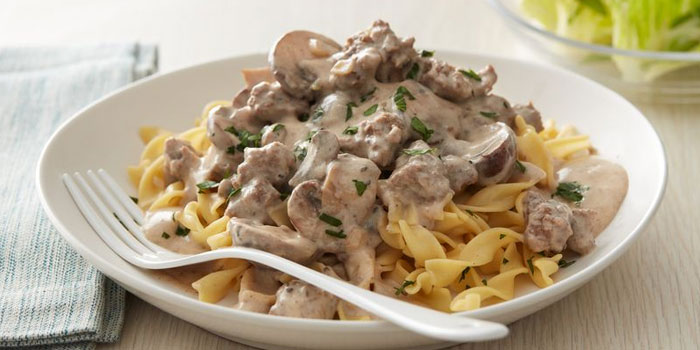 All the ingredients are sauteed in white wine and sour cream to prepare the dish.
Vareniki
The popular recipe is slightly similar to pelmini. The dough is filled with potatoes, mushrooms, cabbage, sweet cottage cheese.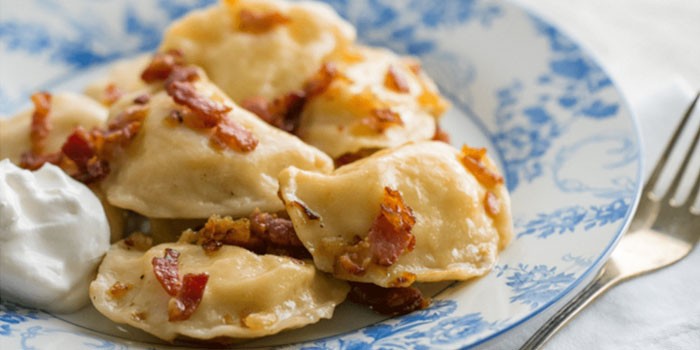 Sour cream or melted butter makes the taste of the dish just unforgettable.
Kissel
The popular dessert is a sweetened juice and is thickened with flour. Berries or other fruits are used for the juice.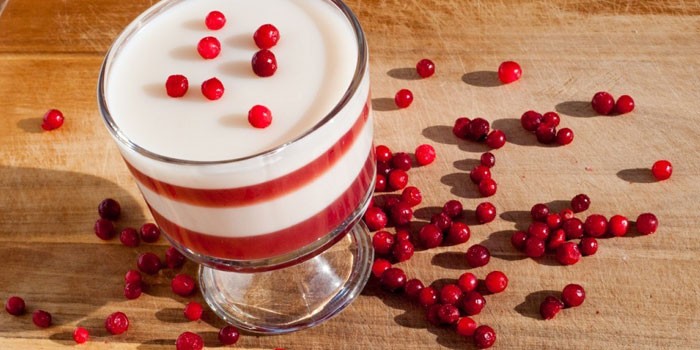 It is served hot or cold.
Medovik
The sweet honey cake is one of the popular desserts in Russia.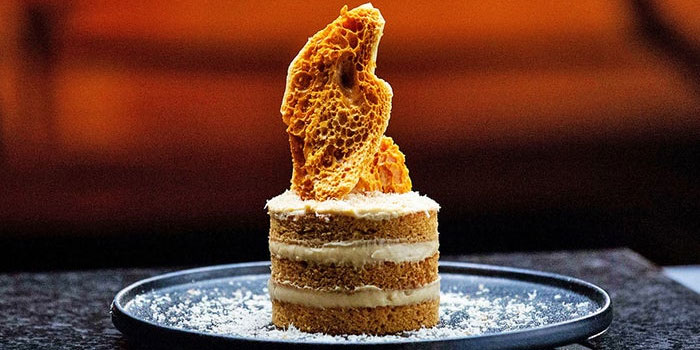 The traditional cake is layered with sour cream.
Oladyi
The famous pancake is made with curd, wheat flour, eggs, milk, salt, and sugar.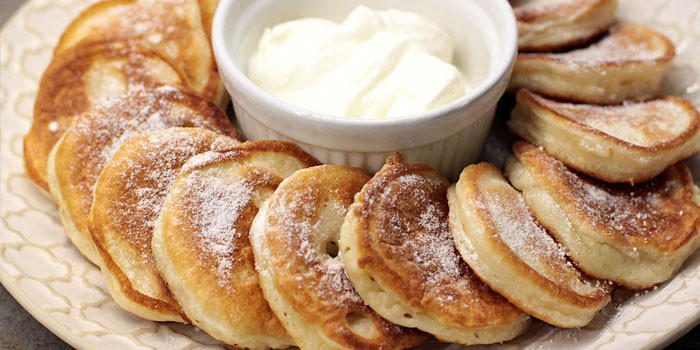 It is usually served with sour cream.
These foods are the signature foods of Russia. You must try these mouth-watering dishes to have a great dinner. You can find their uniqueness of cooking with their recipes.
Conclusion
Russian foods for dinner menu does not mean only cabbage, potatoes, and vodka. Russian dinners are more than that. To them, ingredients do not matter if we have creativity for cooking. The distinguishing characteristic of Russian cuisine lies here.
---
---
References: